Floss Barber Inc. and the Future of Workplace
The future of work will be more like play. Amenities in offices will be as important as efficiencies. The barriers between work, home, and entertainment will collapse as technology untethers us from a desk and a regular schedule. Sustainability will be a given, when designers integrate LEED and green design practices as building standards.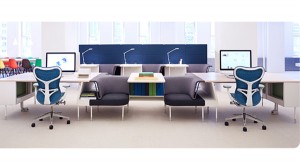 This new workspace system called "Public" from Herman Miller recently premeried at NeoCon. This image shows the all encompassing workspace of the future with built in "impromptu" seating for flexible meetings and ergonomic design. Dr. Margaret Serrato from Herman Miller recently came to the FBI Studio to talk about the science and benefits of an open workplace. According to her research and findings, "Being in an open workplace is good for lots of reasons we know…but really the heart of it is that you get the feeling you're part of something important and that's really where the open workplace can create excitement and energy and give you a competitive edge".
Floss Barber Inc. sponsored "The Future of Work" at The Hub in conjunction with Philadelphia University's Strategic Design MBA students. This was the first in a series of events. FBI was thrilled and inspired to be a part of it.

"The Strategic Design MBA students creatively captured the insights gathered based on a charrette in February 2014 with thought leaders from Philadelphia and then a design research project at Aalto University in Helsinki, Finland in March, 2014. They produced a short film and facilitated a brainstorming session to prompt attendees at the June 5 event to think boldly about the Future of Work. The Hub, our host, was a terrific partner! The students raised over $6000 in contributions which will go towards the Strategic Design & Innovation Club at Philadelphia University. We hope to facilitate future events that will be variations on this Future of Work theme."
– Natalie Nixon