Floss Barber Inc. participates in Design Philadelphia 2014!
FBI makes thier debut in this year's festival judging at the 13th Annual IIDA Product Parade.
Thier participation continues the following day at a panel discussion at Moore College.
13th Annual Philadelphia IIDA Product Parade
Wednesday October 15th
The Product Parade is a commercial interiors trade show and networking event. Each year it brings together design industry professionals, regional contract furnishing and materials representatives for a night of showcasing and celebrating the products and technologies that define design excellence. Cheryl S. Durst, Executive Vice President and CEO of IIDA Headquarters will also be in attendance.
Vendor donated product prizes will be raffled off, and proceeds of raffle ticket sales will be donated to the CDC.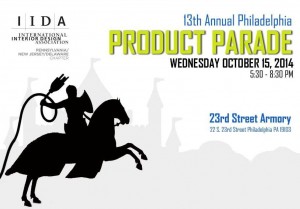 Defining a Profession: Interior Design In Philadelphia
Thursday October 16th
Moore College of Art + Design's Jim Miller will moderate an insightful panel discussion with some of Philadelphia's leading women interior designers who are major forces in the field:
Floss Barber, Floss Barber Inc.;
Moore alumna Karen Daroff '70, Daroff Design Inc.; Barbara Eberlein, Eberlein Design Consultants Ltd.; Moore alumna Marguerite Rodgers '76, Marguerite Rodgers Interior Design;
Kimberly Williams, Jacobs Global Buildings Design.