Illuminating the Griffin with Lasvit
Lasvit and Floss Barber Inc. design for hospitality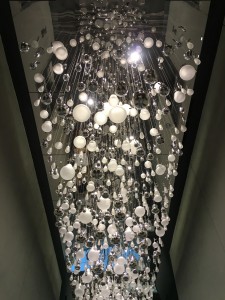 Lasvit manufactures unique works of glass, including lighting installations and artworks for major hospitality destinations. We first worked with Lasvit on the Plaza High Limit Room for the Sands Las Vegas in Bethlehem, Pa., creating a custom crystal dragon sculpture that echoes the feng shui design of the space.
Floss Barber visits Lasvit
Floss Barber attended a glass-design program at the Lasvit headquarters in the Czech Republic. With 10 other international hospitality designers, Floss saw the inner workings and intricacies of the centuries-old art form and participated in creating glass sculpture with the studio's artisans.

Lasvit Glass Couture and custom installations
When we designed the lobby of the Griffin apartments in Philadelphia, we again looked to Lasvit for a breathtaking installation. The reflection of the dramatic fixture in the mirrored ceiling draws the eye upward in this two-story lobby, giving the illusion of grand space. A thousand pieces of hand blown glass are included in this unique installation.
We thank our design partners at JKRP Architects and MRP Realty.