Emily Oleaga-Talley, RA
Studio Director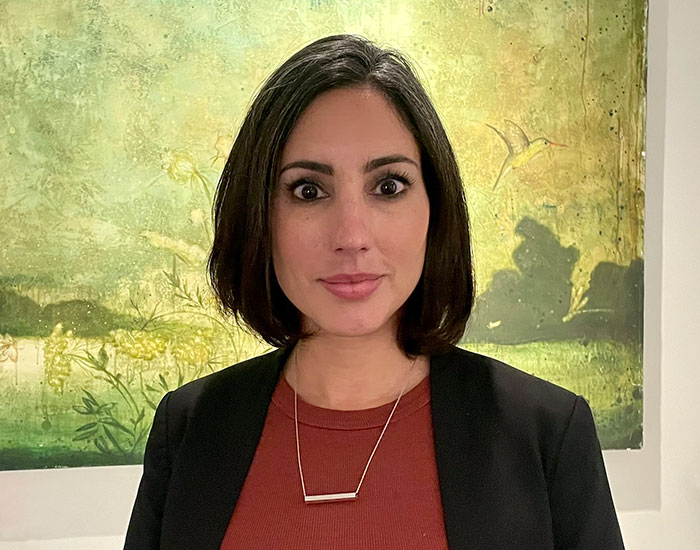 A registered architect with over 20 years of design experience, Emily spent countless vacations surrounded by the midcentury modern furnishings of her maternal grandparents' home in Santo Domingo, Dominican Republic. She loved how the pieces embodied form, function, simplicity, and the natural beauty of the materials. Little did she know then the influence those classic pieces would have on the trajectory of her life. Emily showed an affinity for art, music, dance, and theater from a young age and felt the calling to channel that creativity into architecture.
Emily graduated from Louisiana State University with a Bachelor of Architecture in 1999 and after three years of doing corporate architecture in Philadelphia, she relocated to New York City and found herself working in the world of residential interiors and interior architecture. She was hooked. The ability to be closely involved in all aspects of the design process transformed her design approach into a holistic and transparent process in which the client is central in guiding decisions.
Emily's architecture background allows her to bring together the broad strokes of design with the close attention to detail needed to create thoughtful and responsive interior spaces. Emily understands that good design is, at its core, a three-dimensional solution that encompasses form, function, aesthetics, proportion, and a deep understanding of the client's needs and wants.
When she isn't designing for others, Emily spends her time lovingly updating her circa 1910 Collingswood, N.J., home with her architect husband, three kids, two cats and a dog, as well as singing with her church worship band a few times a month. She has also started accumulating a collection of classic, midcentury furniture that would make her grandmother very, very proud.