Floss Barber, NCIDQ
CEO AND PRINCIPAL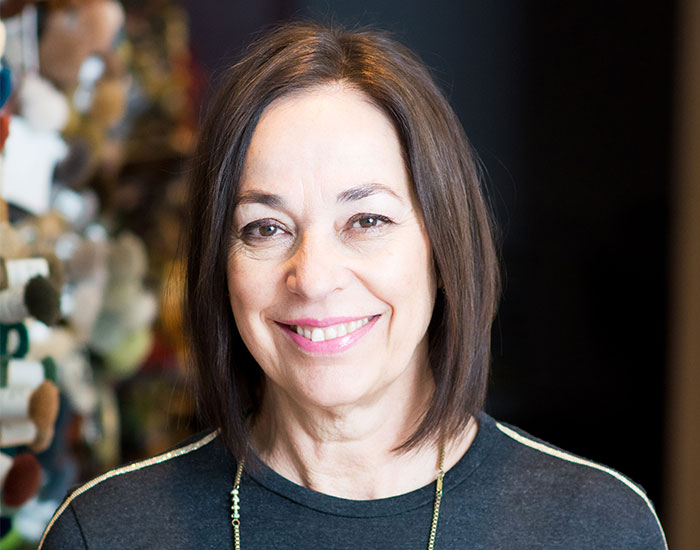 Floss Barber's strength is transforming interior spaces to fit business needs. As she learns about your business, she envisions interiors that reflect your brand, enable employees to work successfully, and blend your history with your future goals. She creates interiors that, in fact, lead to your success in business.
"What I like about design," Floss says, "is seeing the potential in a space come to life: changing the vibrational patterns of that space; encouraging human interaction in the space." With a distinctly modern, spiritual attitude, she designs iconic settings conducive to work, entertainment, or restaurants.
"When a client has a vision that they can articulate, I enjoy leading the process of making it happen," she says. A woman of efficiency and managerial acumen, inspired by spirituality, she orchestrates her own team plus engineers, lighting consultants, and others.
"I enjoy it when it's successful. It's a form of liking excellence."
Floss believes that clients value design that deals with complete environments. "Hospitality begins with welcoming guests and employees as they enter," she says, and it applies to corporate amenity spaces, casinos, and restaurants as well as to hotels and apartment complexes. She designs interiors that entertain and amuse regulars and visitors.
As a student at Drexel University Westphal College of Design, Floss fell under the influence of the late Mary Epstein, who created the design department. Epstein taught the lesson that it was important to look at interiors in unconventional ways, seeking the juxtaposition, for instance, of antiques and Le Corbusier.
Before opening her own studio, Floss managed interiors departments for architectural firms, including Curtis Cox Kennerly. Along the way, she says, "I realized I had my own agenda, which was to create something fresh. Design should be innovative. It should be flexible, not perfect. Perfect is stillness, and it doesn't allow for human interaction."
Floss has earned every honor that the Drexel design school bestows. She serves on its advisory board and its Board of 100, which recognizes the top people from its 150,000 alumni; and she has a place in its Hall of Fame. In gratitude, she instituted an annual cash award for a Drexel Design student who exhibits entrepreneurial acumen.