Saltz Mongeluzzi Barrett & Bendesky, PC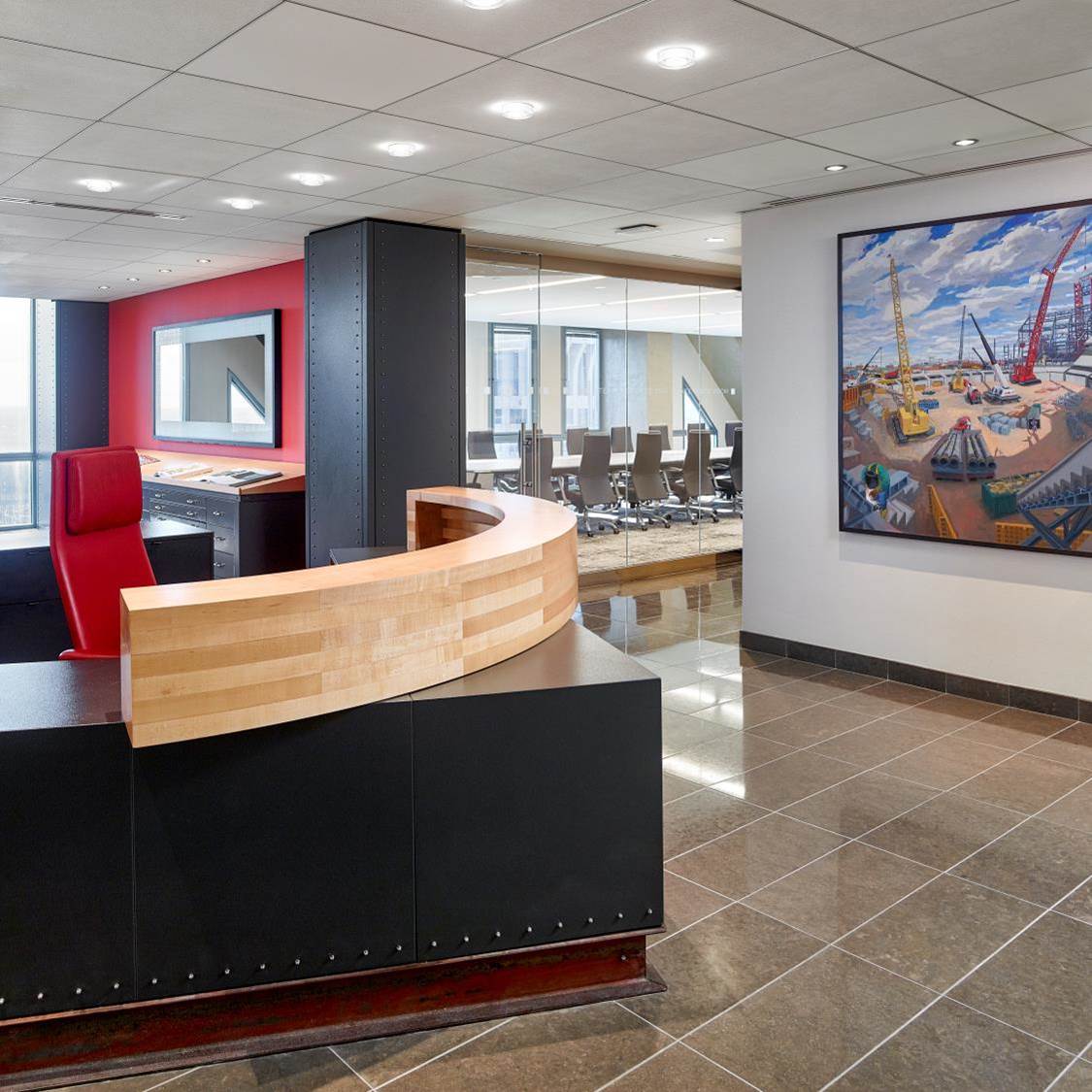 Floss Barber Inc. first renovated the offices of the prestigious law firm of Saltz Mongeluzzi Barrett & Bendesky in 2004. Inspired by the firm's focus on construction workplace litigation, we introduced materials like metal-clad columns with rivets, natural wood, natural stone, and steel.
The latest renovation focuses on the SMBB brand, infusing the offices with a sense of style and power. In the firm's two reception spaces, we upgraded the furniture in a modern neutral color palette, injected with red accents representative of the potent Saltz logo. Bold artwork belonging to firm management features prominently throughout the space.
In the conference room, cool neutral tones exude seriousness and focus. An impressive 30-foot-long conference table with a Carrara marble top and sleek chrome base projects sophistication, accentuated by sculptural black leather conference chairs. The conference room columns are all clad in faux concrete, again focusing clients and guests on the firm's central practice area of construction workplace litigation. The nearby café redesign encourages gathering in a warm and airy space, where red accents cement the SMBB brand.
Floss Barber Inc. upgraded the firm's open office area to reflect modern trends in corporate design: lower partition panels; no overhead storage; tower storage space for employees' personal belongings; and moveable, cushioned pedestals for collaborative work. Light, neutral walls and a geometric patterned carpet bring the focus down to the work areas. The team also designed discreet niches in the open office walls in which to tuck away file cabinets, without obstructing work flow. We upgraded and improved lighting throughout the law firm, utilizing all new LED indirect/direct basket features to create a high-quality, even, and cool light throughout the space.
Client
Saltz Mongeluzzi Barrett & Bendesky, PC