Parker Spruce Hotel Owner Presents Plans for "Boutique" Fairfield Inn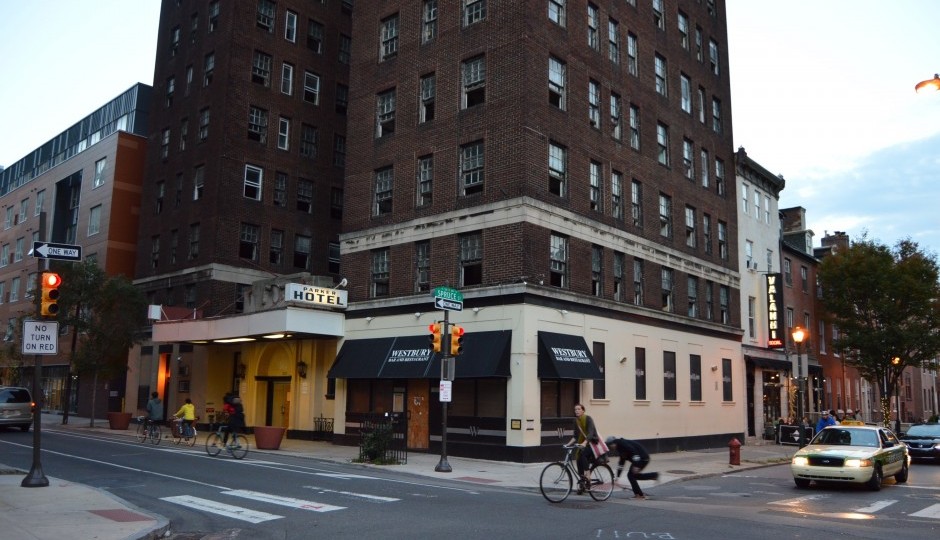 Stuart Rosenberg, principal of SgRA Architects and architect of record on the project, followed the initial presentation with an in-depth look at the historical assets of the building, and how they fit in to its revamped future.
Rosenberg, who led the renovation efforts at the Le Meridien hotel at 1421 Arch Street, explained that the team successfully nominated the building to the National Register of Historic Places, due to its age, location in the Washington Square West historic District and it being deemed a contributing building architecturally to that district. "Our intention is to do an investment tax credit project here, which means we're restoring the building," said Rosenberg.
The building, while filthy, still contains many of its original features that date back to the 1920s, including the exterior brickwork, limestone on the first level, copings, metalwork, leaded windows (including a lunette window above the entrance) and the lobby's marble floors. Stating the obvious, Rosenberg said, "The original brickwork, we don't think has ever been touched since the day it was built around the turn of the century."
That said, work will include power washing "100%" of the building, installing historically accurate, yet modern, windows, restoring the limestone (which had been painted) and also bringing back to life the original marquee, which contains a tin ceiling that they hope they can fully restore.
Perhaps the most important bit of information as it pertains to the renovation is that it will be a custom build outside of the Marriott prototype of floor plans and designs. "They've agreed to waive all the prototype requirements, which means this is going to be a custom boutique hotel," said Rosenberg, while noting they'll be creating an Art Deco aesthetic throughout the hotel with the help of Floss Barber Inc. "We are departing from the standard Marriott book of requirements … they really want to be at this location, they love this neighborhood."
The new Fairfield Inn and Suites will have a small meeting room, fitness facility and corner restaurant space that serves as the breakfast area in the morning, and switches over to a full-service restaurant, possibly with outdoor dining, in the evening.
Again, looking to distance this project from the shady past of the Parker, Rosenberg reiterated that the ground floor will be well-lit and a concierge at the desk 24 hours a day, 7 days a week: "There will be a presence at the front desk all hours of the day and night and, in my opinion, that will enhance the whole sense of security in this area of the city."