GDL Italian by Giada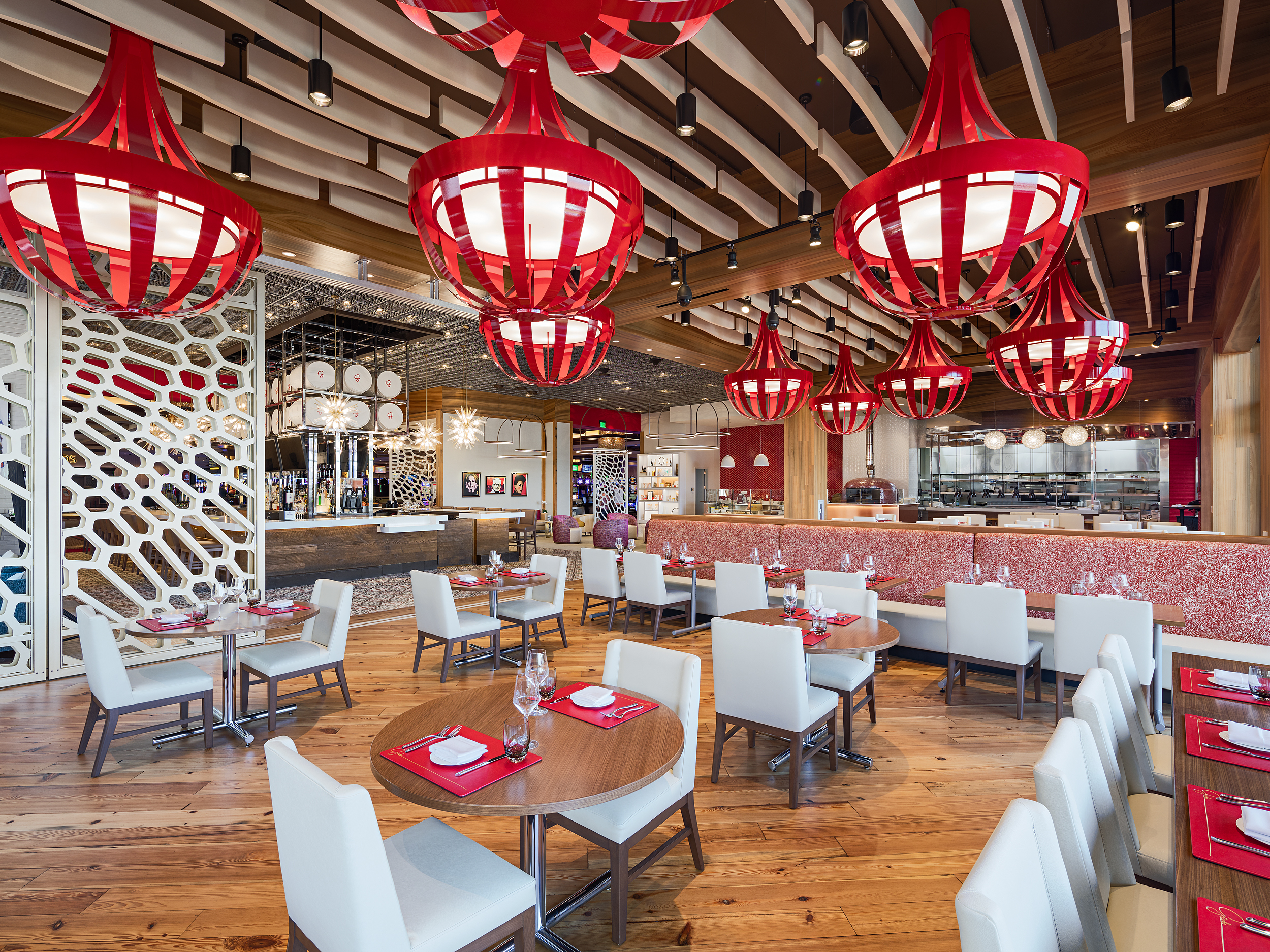 Giada DeLaurentiis's newest restaurant shines with the same effervescent elegance that has made the chef, writer, and television personality an approachable and warm figure in the rarefied world of food and wine. The restaurant's elevated rustic style presents an exuberant blend of Giada's strong Italian roots and her relaxed, southern California lifestyle.
GDL Italian inside the Caesars Horseshoe Casino Baltimore was once home to a rough-hewn restaurant concept with bare concrete floors and an industrial aesthetic. The Floss Barber team renovated the 7,000-square foot restaurant space, adding new furniture, decorative lighting, a lounge, and a retail component. Food preparation takes center stage in the dining room, where open kitchen style antipasto and pizza stations allow guests to engage with the chefs preparing their meals. A balcony was completely refinished for outdoor dining with a custom floor stencil pattern and illuminatedboxwood trellises to shift views toward the Baltimore stadiums and skyline.
The design takes cues from Giada's flagship Las Vegas restaurant, reinterpreting them in a comfortable, colorful, and casual manner. Giada's signature photo booth allows guests to capture a memory of their visit.
Natural wood and stone finishes, including custom handmade cement floor tiles, ground the inviting space, while rose gold and brass accents and marble-look quartz counters provide glamorous highlights. Existing dark wood floors were sanded and sealed to reveal their natural grain. Curved furniture with feminine silhouettes and soft upholstery invite diners to linger in intimate conversation. Family portraits of Giada and her influential grandparents are reimagined as oversize Warhol-style prints in the lounge. Cheerful pops of Giada's favorite shades of red and yellowanimate the bright and airy restaurant, making guests feel like they are dining in Giada's own home.
Client
Caesar's | Giada DeLaurentiis
"
We felt uplifted walking into the airy dining room with a red-and-white-accented decor that suggests a midcentury-modern-fueled fantasy. . . The spacious, stylishly lit dining room and bar invite lingering."
Tim Smith, Baltimore Sun