FIS Group Philadelphia Headquarters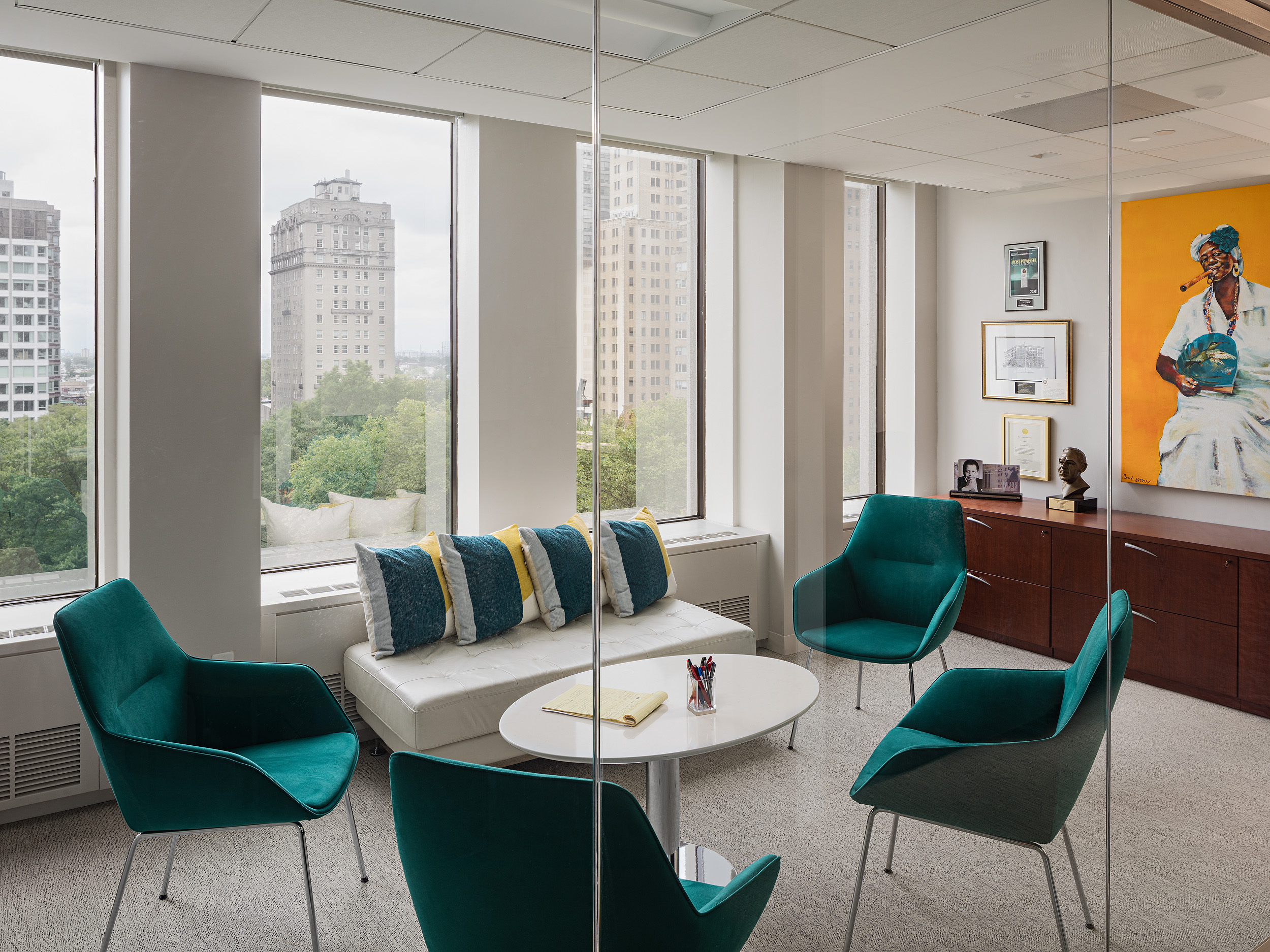 Interior design for the FIS Group corporate headquarters in Philadelphia captures the employee-owned financial services firm's workplace culture, highlights its impressive art collection, and anticipates and accommodates future growth. A comprehensive renovation by Floss Barber, Inc. resulted in sophisticated open-concept interiors to reflect FIS Group's business acumen and brand.
Located in 1845 Walnut Street, the 8,700-sf office overlooks historic Rittenhouse Square. Tall, narrow windows afford dramatic view across the city to the east and west. The building floor plates encouraged a perimeter-based space plan and ample use of interior glass to accentuate the views.
The redesign saw a corporate shift from closed offices to an open-concept plan for 40+ employees. Executives collaborated with the Floss Barber team to identify adjacencies and spatial hierarchy. The layout incorporates two sizes of Knoll workstations, including those allocated to future growth. All current employee stations feature sit-to-stand desks. Eleven huddle and conference rooms of various sizes ensure privacy and capacity for formal and informal meetings. The multi-function break room is ideal for full company meetings or large gatherings. Two semi-private spaces – for the president and CEO – flank the main entry.
A neutral palette of white, black, charcoal, and shades of light wood serves both to emphasize FIS Group's transparency in business and to draw attention to its extensive art collection, including a specially commissioned piece by Peter Terrin that highlights financial leadership. Pops of color come in shades of blue and teal – derivatives of the logo colors for FIS and its sister company, Aapryl, which shares the space.
"
We are delighted that our new workspace draws from our firm's identity and art collection to be at once aesthetically pleasing and functional. The open concept and clean sight lines reflect our culture of transparency and collaboration. It is truly an expression of who we are as a company."
FIS Group CEO Tina Byles Williams